Alright, check it out! Madeira Island, known for its breathtaking landscapes and unique culture, is a total hot spot for tourists. People come from all over to soak up the stunning views, immerse themselves in the vibrant atmosphere, and, believe it or not, get some seriously cool tattoos.

Madeiran tattoos are super popular all throughout Europe, offering a wide range of styles from traditional to modern. Whether you're into intricate patterns or rocking a bold statement piece, these tattoos are legit works of art that make Madeira even more special.

Now, let's dive deep into the most popular tattoo style on Madeira Island. Can't wait to show you what's up!
Dolphins tattoo
Dolphins? Oh man, they're all about playfulness and smarts, makin' 'em a hot pick for some ink. Their sleek bodies and unique features make for some mind-blowin' tattoo designs. You got your traditional tribal vibes, or you can go for some mind-blowin' 3D-realistic styles. Some people like it all colorful and whimsical, while others go for that chill, minimalist vibe. And hey, no matter how you do it, a dolphin tattoo can mean freedom, joy, and a sweet connection with nature. So if you're diggin' these awesome creatures or just into the vibes, add a dolphin tattoo to your body art collection. It's gonna be epic.
Whale tattoo
A small whale tattoo can be a meaningful and beautiful addition to your body art collection. The whale has long been respected in many cultures as a symbol of intelligence, communication, and freedom. Getting a small whale tattoo can remind you of your inner strength and pay homage to the beloved creature. Some folks go for minimalist designs, while others opt for more intricate and detailed depictions. Whatever your style, a small whale tattoo is bound to make a statement and spark conversations.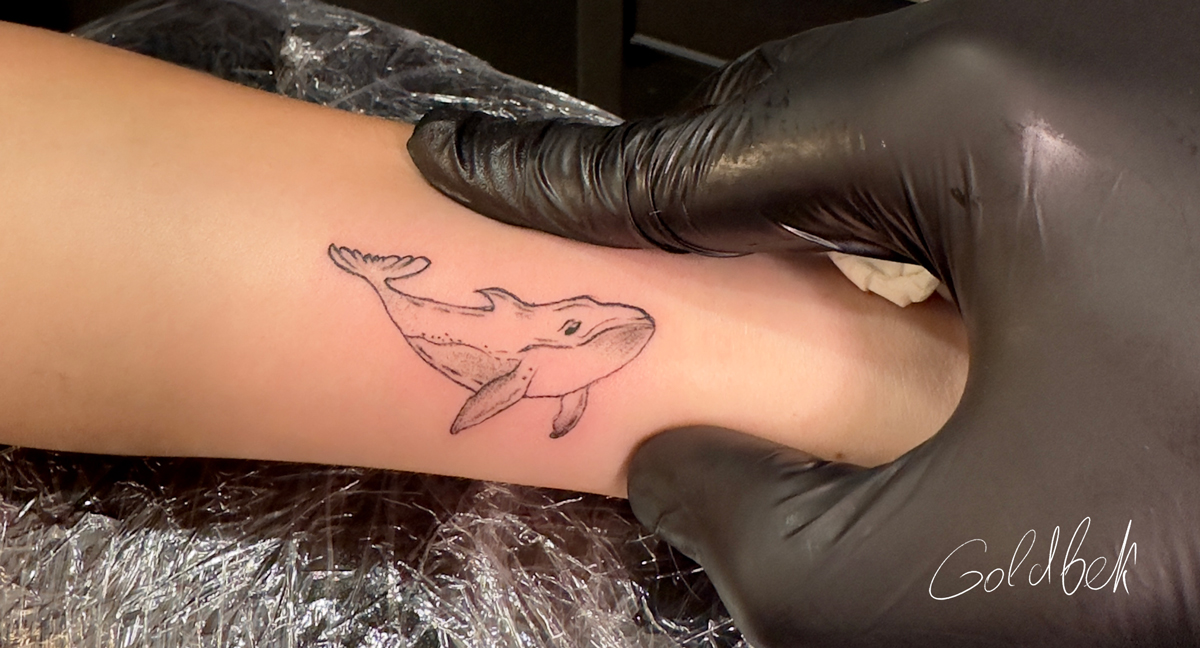 Madeira island symbol tattoo
Imagine having a piece of paradise permanently etched on your skin - a tattoo that symbolizes the wild beauty of Madeira island. It's not just ink, it's a love letter to one of the most stunning places on earth. This symbol captures the essence of Madeira, with its vibrant colors and breathtaking landscapes. It encompasses the island's vibrant culture that embraces both modernity and tradition, and reflects the warmth and friendliness of its people. By sporting a Madeira island symbol tattoo, you carry a bit of this enchanting place with you, wherever you go. It's a testament to the transformative power of travel, inspiring us and leaving an indelible mark.

Tiny tattoos with ocean, waves, sun, animals, mountains, etc.
Having a tattoo is always an exciting experience, especially when it's something unique, meaningful, and beautiful. One of the most inspiring tattoo designs gaining popularity nowadays is tiny tattoos featuring ocean waves, sun, and some sea animals. Many people are getting inked with these tiny images, not just because of their aesthetic value.
Rising sun tattoo
Do you yearn for a unique and artfully crafted creation that boldly stands out from the crowd? If so, look no further than the gorgeous rising sun tattoo! These iconic designs represent strength, power, optimism and hope – perfect symbolism to carry around with you as a daily reminder of your potential. Our experienced team of tattooists have created an excellent selection of tattoo sketches – each one skilfully crafted to last through many golden years.
Rose tattoo
The rose tattoo is widely recognized and deeply meaningful in the world of body art. It's a symbol of beauty and love, representing eternal devotion. With its intricate and delicate design, the rose is a popular choice among tattoo enthusiasts. It can be combined with other symbolic elements or stand alone. The rose tattoo is timeless and its meaning can vary with the color chosen. Red roses symbolize love, while black roses represent the darker aspects of life. Overall, the rose tattoo remains a popular and meaningful choice for those looking to adorn their skin with a significant design.
The infinity symbol
The infinity tattoo, man, it's like this hot design that's been trending for years. And dude, it's totally understandable why. This symbol, right, it looks like a sideways eight, means endlessness, bro. It's all about something going on forever, you know what I'm saying? People dig these infinity tattoos to show love for their boo, their fam, or their homies. It's also about growth, possibilities, and life being a never-ending journey, man. You can make these tattoos simple or complex, and add your own personal twist to make them one-of-a-kind. The popularity of this symbol shows how people are totally into the idea of something that's infinite and everlasting.
Lettering tattoo
Lettering tattoos are a unique art form, with each piece telling its own story. From bold block letters to delicate script, the design and execution of these tattoos showcase the skill of the artist. Expertly transforming letters into works of art, these tattoos have gained popularity in recent years. They provide an opportunity to wear something deeply personal and meaningful in a creative way, whether it's a beloved quote, the name of a loved one, or a symbol of special significance. Ultimately, lettering tattoos are truly one-of-a-kind art pieces.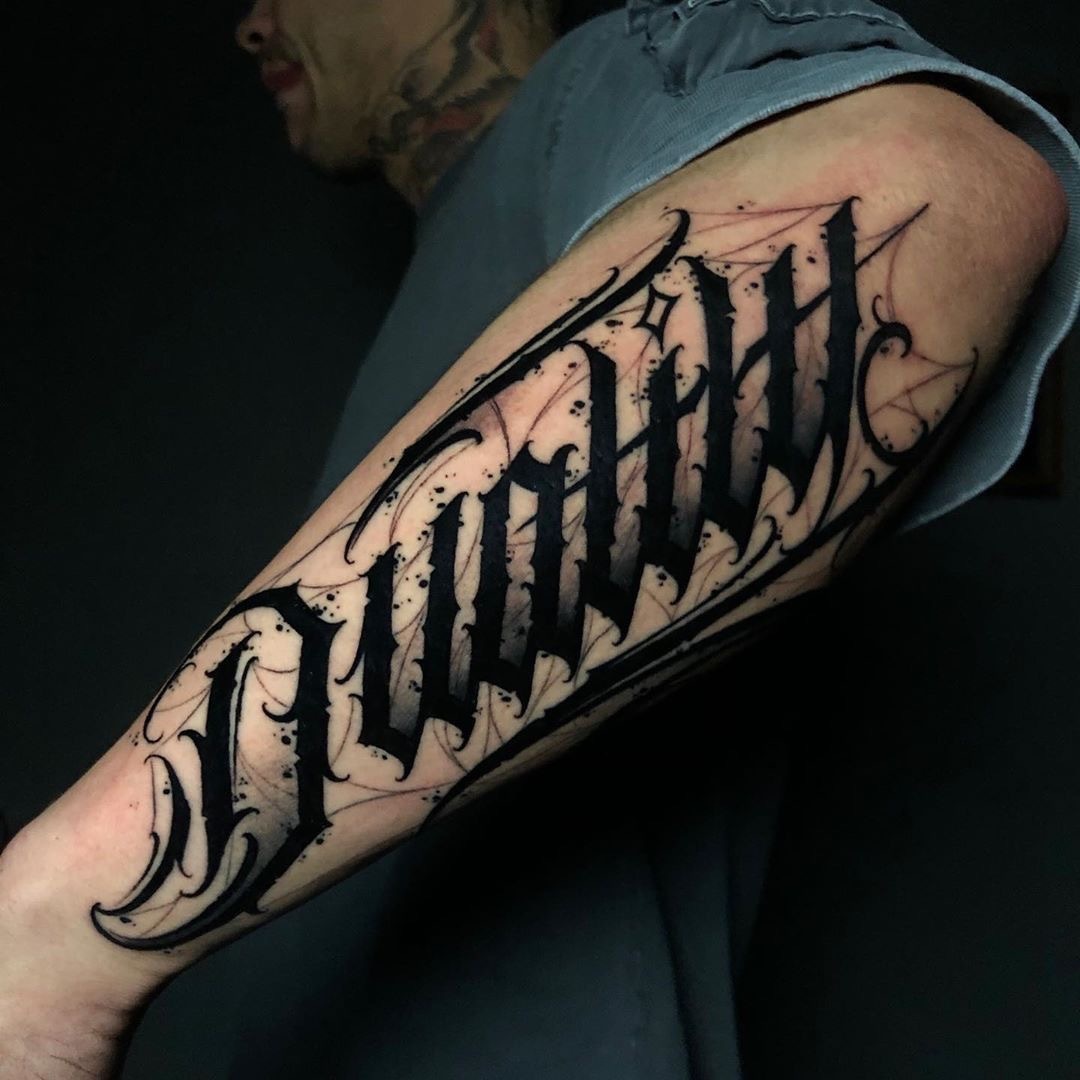 Family portraits and children's portrait
A family, man... It's not just a bunch of folks with the same last name. It's a bond that goes beyond time and space, you know? So why not immortalize that love with a family portrait tattoo? And for them little ones, the little bundles of joy who make your life complete, a children's portrait tattoo is the way to go, man. It's like capturing their innocence and energy forever, you dig? Whether you want realistic artwork or something playful like a cartoon, a family or children's portrait tattoo is a beautiful way to celebrate the people who mean the most to you, bro. 'Cause life's fleeting, but family love is forever, no doubt.
Madeira Flowers
Tattoos are such a personal form of expression, and when it comes to flower tattoos, the options are endless. From bold and vibrant to soft and delicate, the best color flower tattoos are the ones that speak to you! But if you're looking for inspiration, the stunning flora and fauna of the Portuguese island of Madeira provide the perfect starting point. Picture a bright and bold bird of paradise, or the soft pastels of a hydrangea. With the island's lush greenery and endless blooms, the options for the perfect flower tattoo are endless. So go ahead, make a bold statement or opt for something subtle and sweet. The choice is yours, and the world of colored flowers of Madeira tattoos is yours to explore.
If you have any questions, please don't hesitate to reach out to us via email at goldbektattoo@gmail.com or send us a direct message on Instagram at @goldbek_tattooartist
Highly recommended reading: